Chunlian adalah tipe khusus dari Duilian, atau sebuah syair yang biasa dipakai selama perayaan Tahun Baru China. Duilian terdiri dari sebuah syair yang tertulis secara vertikal di atas kertas merah dengan gaya kaligrafi yang memberikan ilustrasi akan harapan seseorang dalam tahun baru yang dating tersebut. Di sini saya mencoba untuk menggunakan Ikan Maskoki untuk melukiskan beberapa syair (pepatah) Tionghoa untuk menyambut Tahun Baru Kelinci – 2011 kali ini.
Chun lian is a special type of Duilian, or couplet used only during the Chinese New Year as part of its celebration. Duilian comprises of a couplet written on vertical strips of red paper in the best calligraphic style one can muster to illustrate one's wish for the coming year.Here I try to use goldfish to depict some of this chinese couplets to usher in this year of the Rabbit – 2011.
户户金狮报欢喜
Semoga seluruh anggota rumah tangga yang memiliki Oranda emas (dilambangkan dengan Maskoki Oranda) mendapatkan keberuntungan dan kebahagiaan.
May each household have a golden lion(symbolised here by lionhead oranda)to bring forth great fortune and happiness.
家家流金迎新春
Semoga setiap keluarga memiliki banyak emas simpanan untuk menyambut Tahun Baru.
May each family have in reserve much gold (symbolised by the ryukin) to receive the new year.
年年有余
Semoga tahun demi tahun selalu memiliki kelebihan (kemakmuran).
Have surplus year after year.
Dalam Bahasa Mandarin, kata 寿 melambangkan umur panjang dan kehidupan. Dalam Bahasa Mandarin, Maskoki Ranchu kadangkala disebut sebagai 寿星公. Berikut ini sebuah syair kuno Tionghoa, yang artinya adalah "Langit menganugerahkan satu tahun dengan musim semi panjang yang mendatangkan kemakmuran dan kecukupan".
The word 寿 in chinese symbolise longevity and life .The ranchu in chinese are sometime called 寿星公. I found a classic couplet which translate as "Heaven add another year to our age with spring comes prosperity of abundance".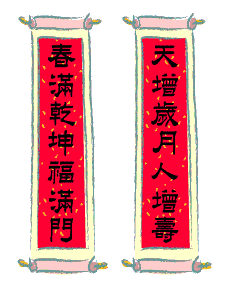 Syair berikutnya didedikasikan untuk semua pecinta Maskoki Pearlscale.
The next presentation is dedicated to all pearl scale fans.
Syair berikutnya didekikasi untuk semua pecinta metode Green Water.
Next Couplet is dedicated to all green water fans.
喜庆花红送玉面 吉祥爆竹接黑龙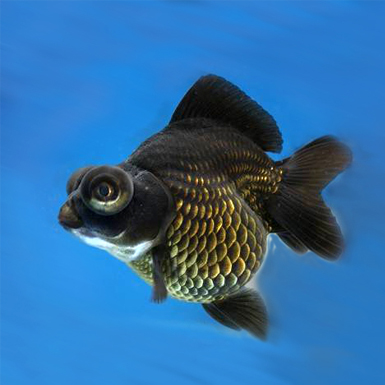 人 国
长 永
久 昌

月 家
长 永
圆 睦

春 鱼
长 永
在 生
Syair berikutnya terdiri dari 3 kata dalam 3 bait yang penuh berkah.
Syair di kiri vertikal terdiri dari kata "长" yang melambangkan umur panjang. Jadi, syair ini dibaca:
"Semoga umat manusia berumur panjang, semoga bulan selalu bundar (terang purnama), dan semoga musim semi dapat bertahan lama".
Syair di sebelah kanan memiliki kata "永" yang melambangkan kekekalan atau selamanya.
"Semoga negeri maju berkembang, semoga keluarga harmonis dan semoga ikan-ikan kita (hobi) hidup selamanya…"
Next couplet comprises of 3 sets of 3 words of blessings. The left vertical has the word,长 which mean longetivity. So it reads: "May human live long,May moon always be round,and may spring stays forever". The right one has the word 永 which means lasting or forever. "May a country flourish, may a family be harmonious and may our fish(hobby) live forever......"
Bukan Tahun Baru China bila perayaannya tanpa ada tarian singa barongsai, dan di sini saya akan menampilkan foto kepala singa barongsai beserta Maskoki Lionhead yang memiliki kemiripan bentuk antar keduanya; untuk menyambut datangnya kemakmuran Tahun Baru kali ini bagi semua orang yang melihatnya.
What is Chinese New Year without the prancing lion and here I include the traditional lionhead against one of my Lionhead which has the closest resemblance to it and together may the two ursher another prosperous new year for all who view.
新年如意
禧上添花
*Courtesy: goldrush from Raffles Gold